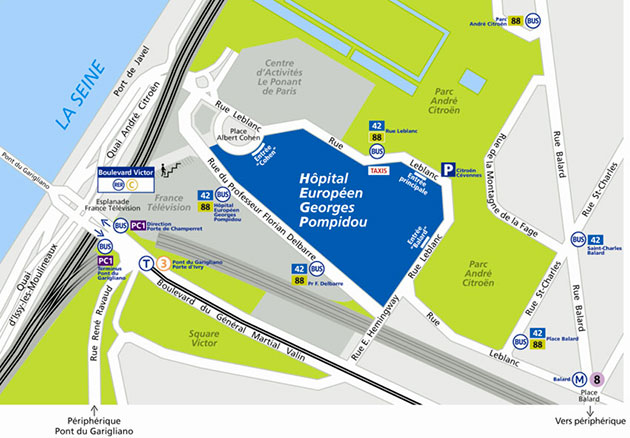 Public transport


N° 42 bus (Gare du Nord – HEGP) bus stop : rue Leblanc
N° 88 bus (Cité universitaire - HEGP) bus stop : rue Leblanc
N° 169 bus (Pont de Sèvre - HEGP) bus stop : rue Leblanc
These 3 buses have the same terminus : Rue du Dr Florian Delbarre
RER : Line C Station Boulevard Victor Hugo – HEGP
Undeground : Line 8 (Créteil – Balard) Station Balard
Tramway : T3 (Pont Garigliano) : terminus
If you want to come by car, you can park outside the hospital (parking meter car parks). There is also a 600-spaces paying public car park located Rue Leblanc, Parking Cévennes Citroën.

Parking reserved for the disabled.

There are designated handicapped parking spaces available next to the main entrance, rue Leblanc and pôle D entrance, place Albert Cohen.

There are 2 one-minute parking spaces to enable a vehicle to drop a disabled person off in front of the main entrance.

A temporary parking authorization to park in the hospital underground car park can be obtained after having asked for it to the officer on duty.

Wheel chairs can be borrowed from the hospital reception desk. You can get these wheelchairs using a one-euro coin or an equivalent token. Moreover a team of young people is present and available at the reception main desk to take handicapped people in wheelchairs to the service they need to go to and to take them back to the exit, where they can take a taxi in front of the hospital main entrance.
Visitors lifts are equipped with Braille buttons for the visually impaired. There are easily accessible to handicapped persons public conviences inside the hospital and in each department.

In-room hairdressing service. To have an appointment contact Relais H, (rue hospitalière) If handicapped persons can not borrow cds or books, they can contact the digital librarian who will bring the documents into the rooms. On order, newspapers can be delivered directly to the patients' room by calling the Relais H shop.